Free UK Delivery Over £50
100% Plastic-Free Packaging
Replacement Parts Guarantee
The Shoreline Shaving metal safety razor for women and men has been ergonomically designed for comfort, grip and a closer shave to the skin.
Avoid ingrown hairs, rashes and razor burn with a travel shaving set that's made to travel light. Zero skin irritation, zero waste, zero hassle. Sustainable shaving made easy.
Blades and drawstring hessian travel bag included.
Free Tracked Delivery £50+
Parts Guarantee
Anyone ordering this product from our website will be deemed to be at least 18. Please read our terms of service here.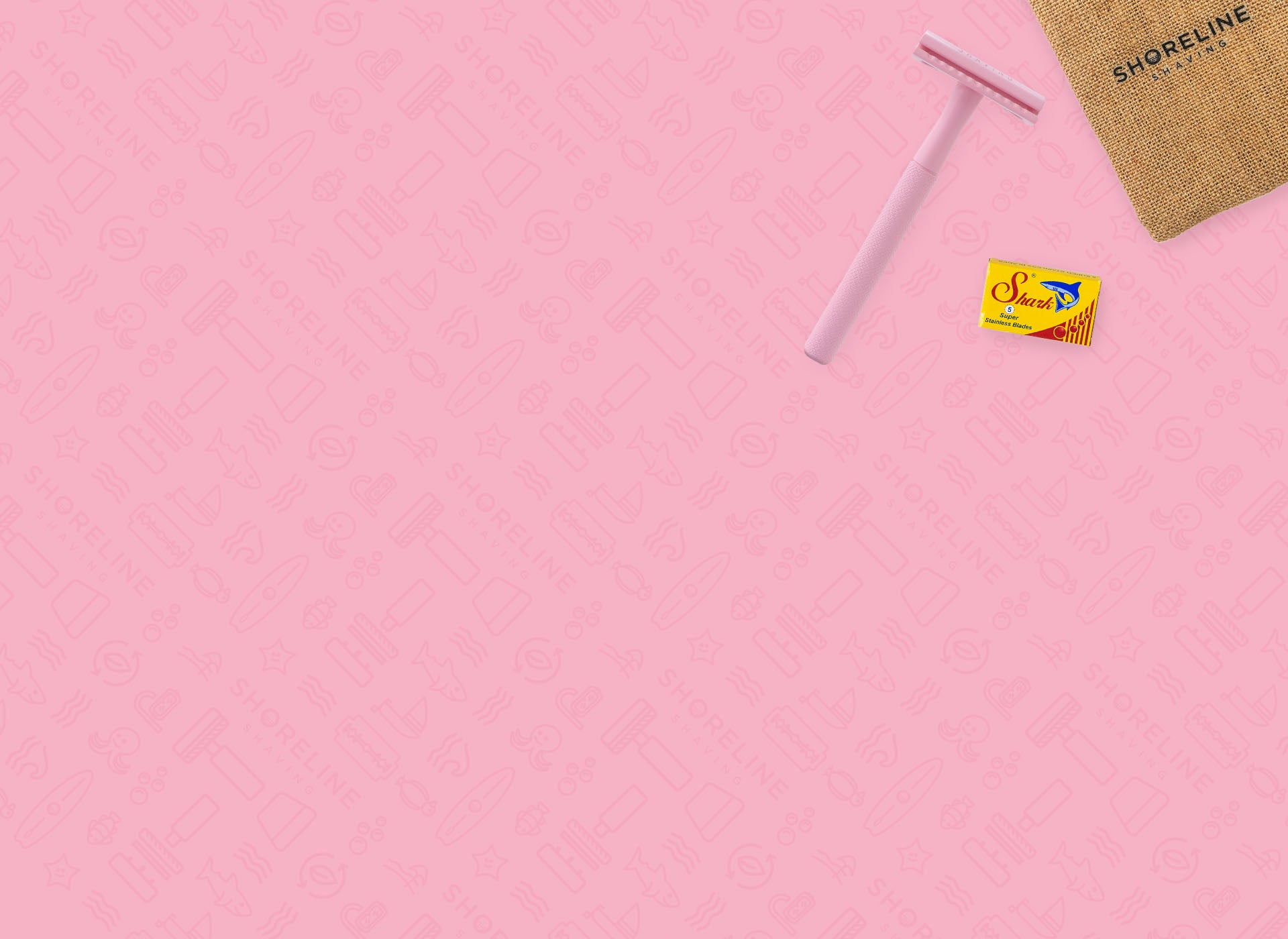 Safety Razor & Blades
Our metal DE safety razors are suitable for men, women or anyone. Expertly designed with a slimline head, a long weighted chrome handle and textured non-slip grip. Get to those hard to reach areas, with a steady hand and in comfort. Our Super Stainless Blades are made by Shark and fit all standard double-edge safety razors.
Dimensions: H10.8 x W4.8 x D2.5cm
Weight: 90g
Grip: Textured
Blade change: Screw head

Travel Bag
Our natural drawstring travel bag is made from hessian, a woven fabric made from the jute plant. This is a super efficient source of renewable material, highly sustainable and robust enough to protect your zero waste safety razor.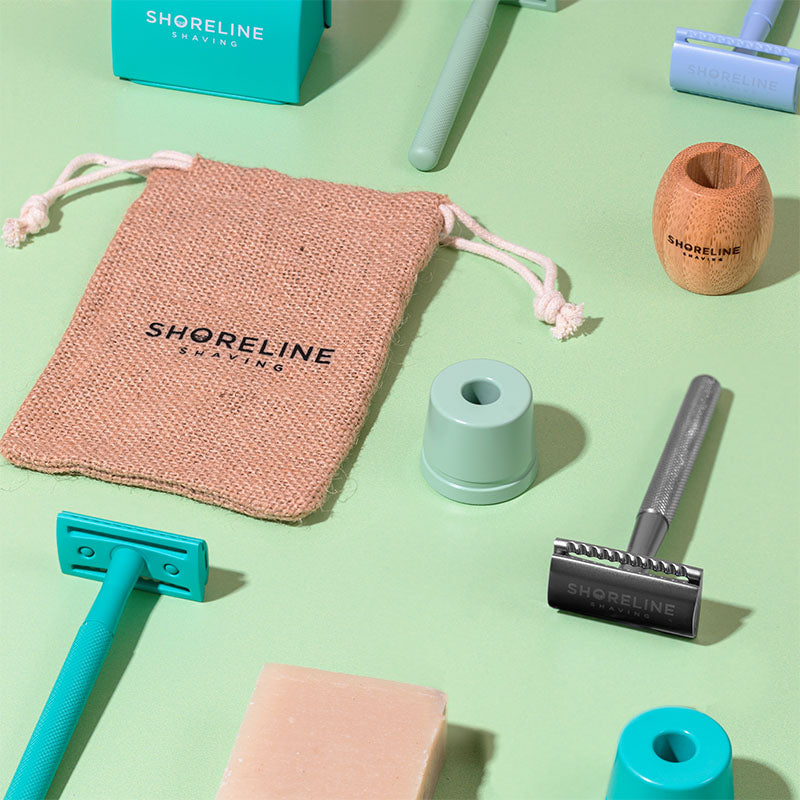 Plastic-Free & Sustainable Packaging 
For us, the way we package our safety razors is just as important as the product itself. Every order we send out is packaged with 100% plastic free, recyclable or biodegradable materials. 
We Pack Everything Ourselves
We do not outsource the packaging of our products. This allows us to quality check every single element before it reaches you. We wrap every soap, pack every shaving kit, assemble every safety razor and write every thank you card!
Eco-Friendly Packaging:

Paper sleeves and tissue are recyclable 
Gift boxes are made from recycled cardboard
We don't brand our gift boxes so you can reuse them
The box that houses the blades is recyclable
For protection, we use wood wool or zig zag paper
Zig zag paper is recyclable & wood wool is biodegradable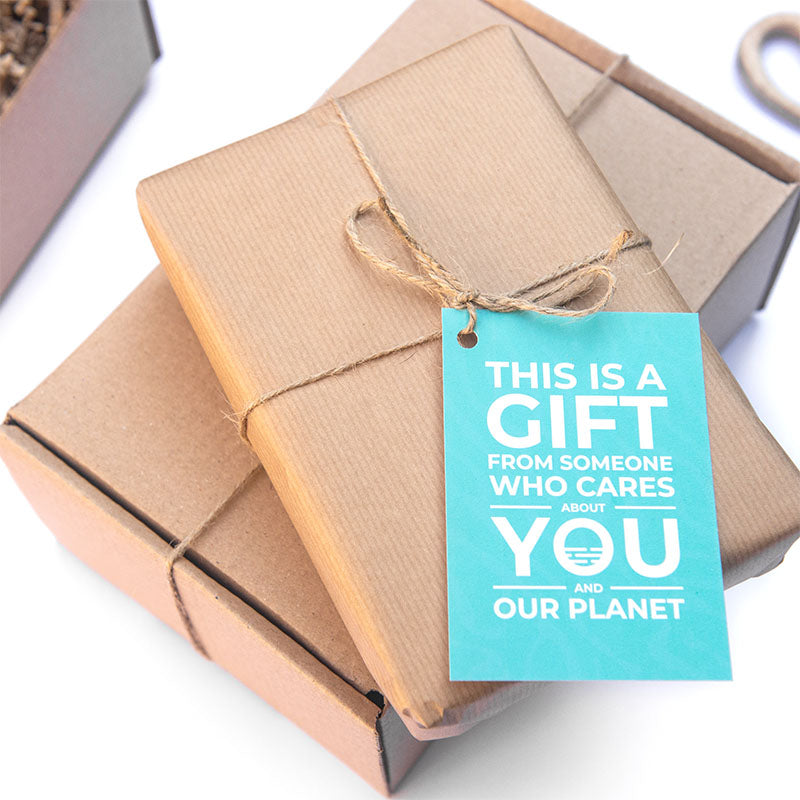 How to care for your eco-friendly safety razor 
To ensure the longevity of your reusable razor, wipe down after use and don't expose it to harsh chemicals or long stints of moisture. We recommend purchasing a safety razor stand so your razor isn't left sitting in water. 
A hessian travel bag is robust and spacious enough to carry your razor, along with blades and other small shaving accessories. Place the razor head down into the hessian bag when store away from the bathroom.
How long will double-edge razor blades last for?
Blade longevity all depends on how much you care for the blades, how often you use your razor, the length of your hair, and how your store razor and blades.
If you shave daily on a small-medium surface area (face, legs or underarms), a Shark Super Stainless blade will last around 5 days before losing its edge. 
It's important to wipe down your safety razor after use and store your razor in a dry place. Don't leave the blade exposed in the bathroom, as any moisture will blunt the blade quicker.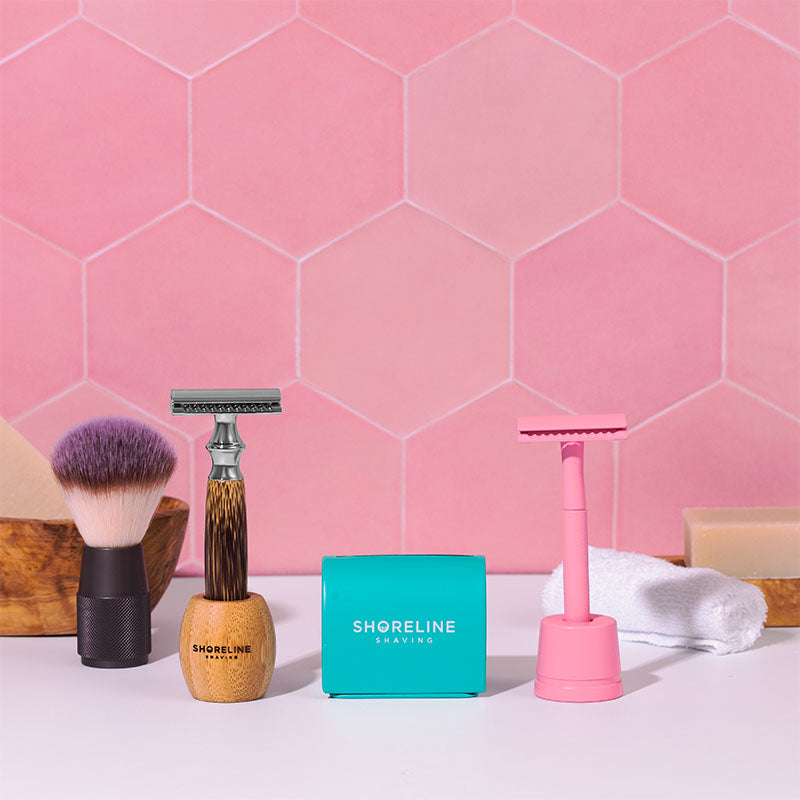 More about reusable safety razors


Safety razors are popularly known as double-edge safety razors, reusable razors and DE razors. They have been designed with two metal plates that form the head of the razor and enclose the blade, with only the edge of the blade showing slightly.
Safety razors are engineered with a bevelled edge (zig zag pattern) on the bottom plate and a slight hangover of the top plate. This has been designed to come between the edge of the blade and the skin, so beginners are able to use the razor safely. 
Discover our range of reusable safety razors.
Shaving with a safety razor gives a cleaner shave, with less strokes, and it is much better for your skin. Reusable double-edge razors only use a single blade against the skin so there is less irritation and rashes, which can be caused from pulling and tugging. Single blade razors reduce ingrown hairs by using a sharp blade and less need for multiple passes on the skin. 
Get started with our range of shaving kits.
How often you shave with a safety razor is all down to personal preference, how quickly your hair grows back and the finish you want to achieve. Like any razor, if you shave too often, you may dry out your skin. Be kind to your body, lather the area you're shaving, be patient, take your time and establish a post-shave routine. Your skin will thank you for it.
Fitting or changing a new blade is simple and this method can be applied to the majority of safety razors on the market. To open up the head of the razor, hold the safety razor head, pointing down, in one hand and twist the razor handle counterclockwise with your other hand.Separate the head plates from the handle.
Using your index finger and thumb on the side tabs of the new blade, carefully place the blade on top of the pegs. Carefully place the bottom plate over the blade and pegs, enclosing the blade. Make sure the bottom plate's bevelled edge (zig zag pattern) faces towards the blade or you will not be able to shave properly.
Hold the top and bottom of the razor head with your index finger and thumb, safely away from the exposed blade. To be extra safe, use a small towel to hold the head. Insert the razor handle back into the screw head and gently twist the handle clockwise until closed.
Shaving with a safety razor can take one or two tries to master, but it's very easy for beginners to learn. There are a few important steps to highlight: prepare the area, using plenty of lather, take your time and don't forget your post-shave routine.
Prepare the area you're going to shave by placing a warm flannel over the skin. For best results, shave after a shower or a bath. This will encourage the pores of the skin to open up, which will reduce irritation and be kinder to your skin when you're shaving. You will then need to prepare the soap lather for the area you're shaving.
Create a foamy lather with a shaving soap bar or cream, using your hands or with a shaving brush. Massage the lather into the area of skin you'll be shaving and let it rest for a couple of minutes.
Hold the razor at a 30-45 degree angle. Apply little to no pressure, allowing the weight of the razor to do the work, and make sure your blade is sharp. We recommend shaving with the grain, especially on the first pass.
This is much more gentle on the skin and will help reduce razor burn and irritation to sensitive skin. Once you get more confident, and mastered the ideal angle and right amount of pressure, try shaving against the grain.
Make sure to take your time if you are just starting out. Use short gentle strokes on both sides of the razor, while thoroughly rinsing the razor head after each pass.
To begin with, you may find you have to shave an area more than once if not completely smooth. This is fine. Once you have mastered the art of using a safety razor, you'll get the smoothest and cleanest shave you've ever had.
The length of time a blade lasts all depends on how much you care for the blades, how often you use your razor, the length of your hair, and how you store the safety razor and blades.
If you're shaving daily on a small-medium surface area (face, legs or underarms), we find Shark blades last up to 10 days before losing their edge. That means one pack of Shark blades (5 in each pack) will last you nearly two months.
It's important to wipe down the blade after use and store your razor in a dry place. Please don't leave it in the bathroom, as moisture fills the room when you have a bath or shower. This will blunt the blade quicker.
Every one of our plastic-free and eco-friendly safety razors come with blades, so you won't need to purchase them for a while. If you need to restock, we sell replacement double-edged blades in packs of 3 or 5, which amounts to 15 or 25 blades.
Reusable safety razors come in a wide range of colours and styles for women and men, such as rose gold, mint green and matte black metal razors and premium safety razors with a bamboo handle.
Choosing the look of a single-blade razor is all about preference. We also offer safety razor stands to match the colour of your razor.
However it is vital that your safety razor has a long handle and slimline head, including a grip that is textured or grained, so that you can shave in areas that are hard to reach. Click the link for our full range of eco-friendly shaving products.